Not much progress on the bug from before. I think it's due to an unimplemented Yaroze library function. RobotRon uses the 3D matrix functions and I hadn't bothered to implement them yet. As such it was returning garbage, which I think was causing the random hang. I haven't exactly pinpointed what goes wrong, but getting those functions working should fix it.
I haven't done much lately because I have decided to sell my old Magic the Gathering cards to fund other enterprises. I have six large binders full of cards - one for each of the colors plus another for artifacts & lands. I also have a ton of loose cards. I went through the loose cards and sorted them by expansion. That's what you see here.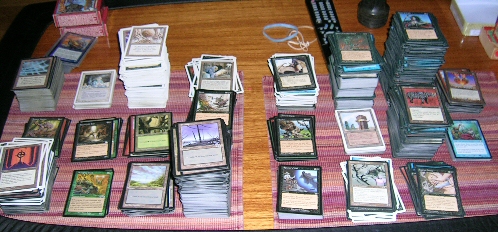 Each stack is a separate expansion set. Top left are my betas (very well played so not worth much). Next to them are the Unlimiteds and then the big stack of Reviseds. Other big stacks are for Fallen Empires, Ice Age, Homelands, and Urza's Saga.
And that doesn't even include the ones in the binders! I'm hoping to get about $500 from all this. The big ticket items are my dual lands, of which I have eighteen. They're worth $15-30 a pop.
I'll sell the expensive ones on eBay. Then I'll put the rest up on Card Shark. It's a great site that lets you buy and sell individual cards from other collectors. In fact I just purchased a bunch of cards from there to fill out the rest of my Unglued set. I figure I'll get more for it if it's complete - I was only a few short. Other expansions I'm missing quite a few so they probably aren't worth completing.
As I sorted through the big stack of Urza's Saga I made note of the cards that were worth the most according to Card Shark. Of course, I don't have any of them. Typical.